DesignModo Reviews : " Slides" – An Excellent Website Builder Solution
---
January 19, 2018 Website Builder Reviews
---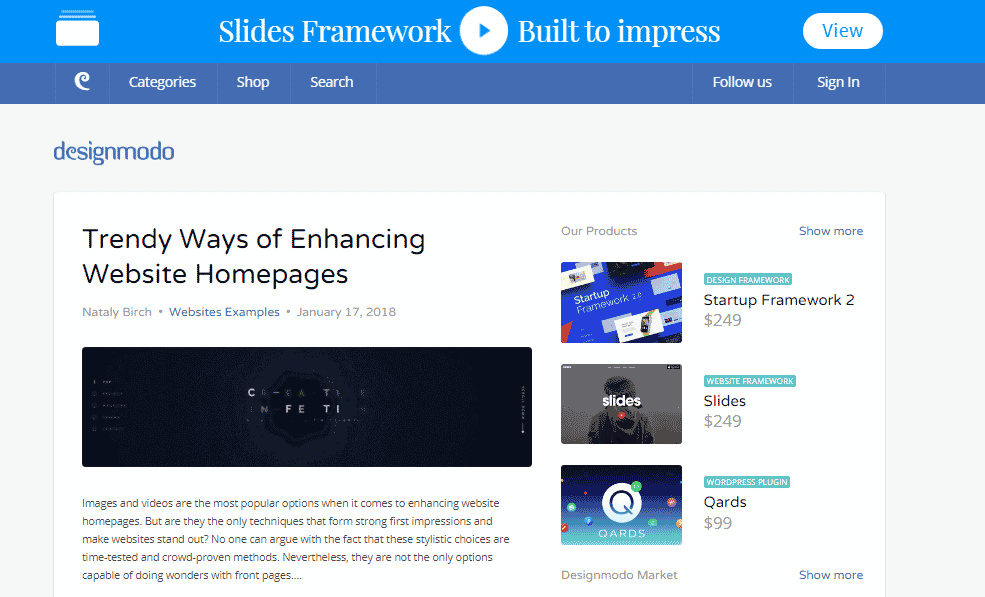 ---
I have 5 years of experience working as a web developer and my favorite web platform is WordPress for all my job requirements, I also use it for this site, but WordPress is not all, in fact.
With the current trend, the people's aesthetics is higher leading to they no longer need the complexity of the features anymore, but an eye-catching interface as well as easy to use instead.
Meanwhile, I am looking for a solution of minimizing WordPress for a simple web page without updating the content as much as landing pages. I've been looking for a lot of vendors on Website Builder then I decided to choose Designmodo.
Designmodo is one of the most popular Design and Web Development blogs in the world. They provide Premium Web UI Kits, Fonts, Icons, Static Website Builders, Slides, Quard and UX, Website Design, and much more. With Designmodo, I have all that I need.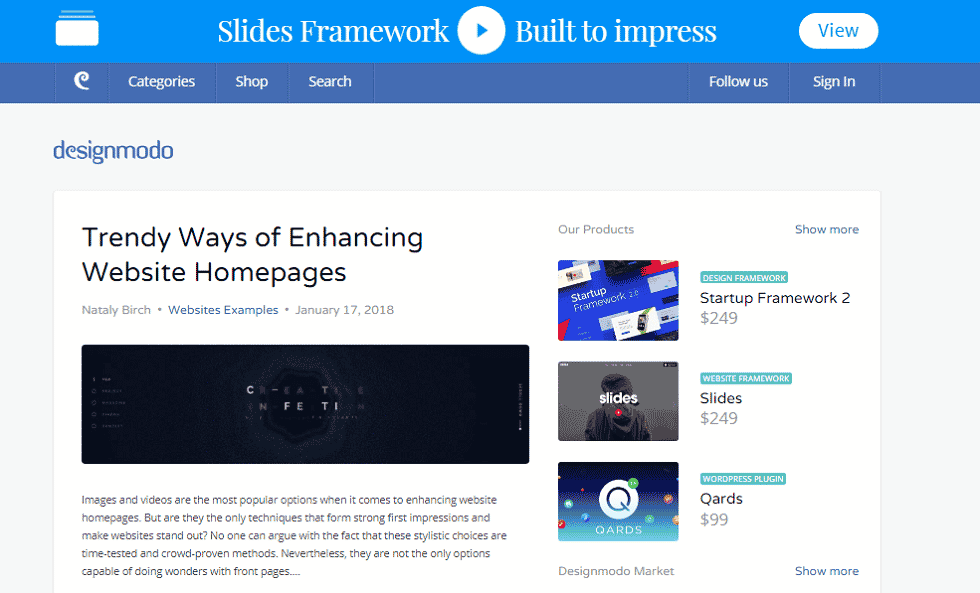 What is Designmodo Slides?
Slides is a framework by DesignModo. It is based on its own CSS3, JavaScript, and HTML5 language with a unique code and structure that lets you create, with minimum effort, visually captivating single-page websites with a lot of built-in options. It basically consists of 64 slides that you can use in whichever combination you'd like in order to create your own unique website. This website would, of course, display its content in a transition slider manner i.e. only one slide is displayed at a time and the slides keep changing as the reader scrolls.
The first, I will talk about the speed of Slides vs WordPress.
If you want to make a simple but beautiful page, building it with Slides is always faster than launching it on WordPress.
Working with this platform is extremely fast. You just use drag, drop and optional to select slides, and then include your copy by editing the index.html file.

No PHP join, so the site will work on every web server.

It gives you a faster download site … especially since it does not use any server-side technology.

Because each slide is a stand-alone element, and it occupies the entire screen when it is displayed, Slides allows you to tell an effective story about your product/business. You can direct your visitors to slideshows by slide, to the place where you need them.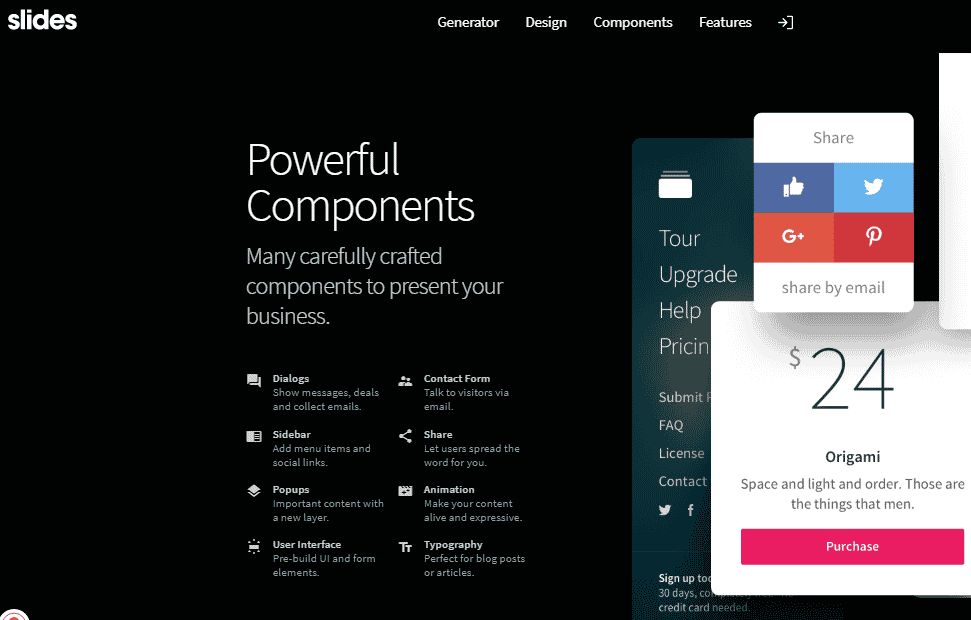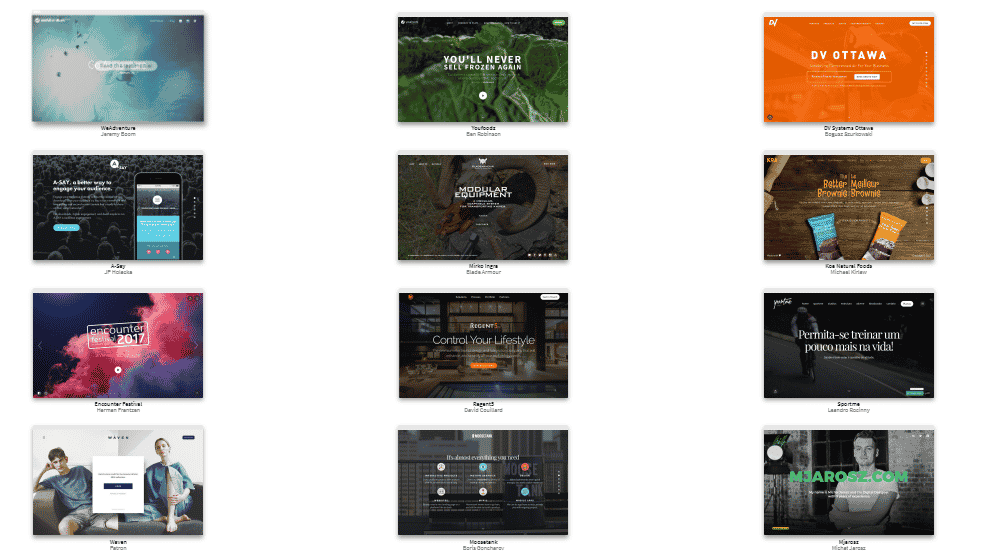 The second: The advantages of Slides in terms of interface and usability.
Slides creates beautiful, professional web pages – perfect for advertising websites.

Slides are fast and easy to use. You can have your website up and running in less time than using WordPress.

UI is intuitive to use.I really like it.

There is an excellent selection of 64 beautiful animations.

You can select a panel above, the bottom panel, transition animations and navigation styles with a button.

You can preview your Slides page when you are building it.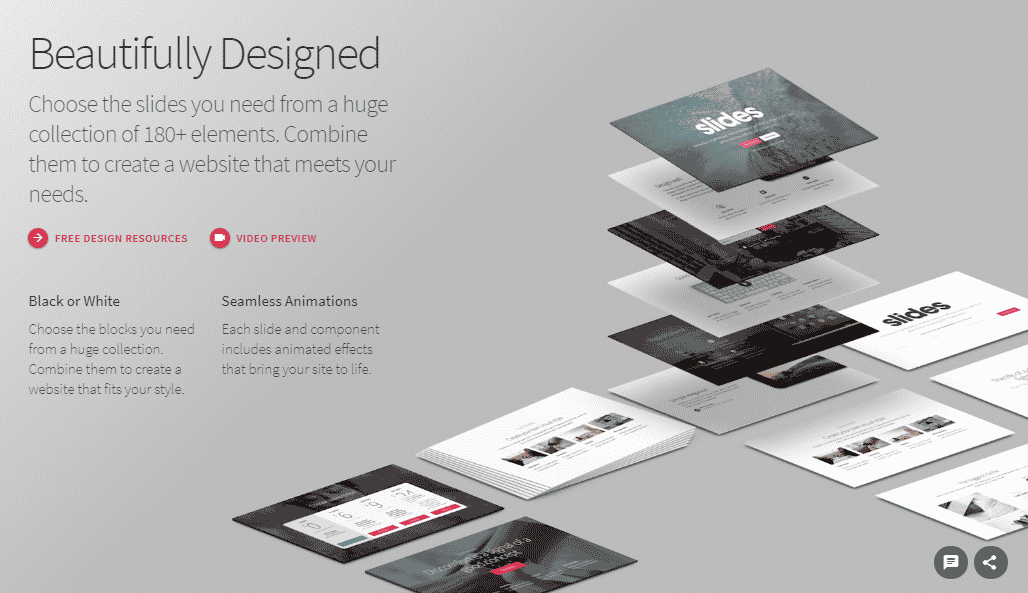 Cons of DesignModo Slides
The weakness of Slides can only be used to build one-page sites – although that's the point!




If you want to add additional pages, like a blog – I think WordPress will be a great choice.

It does not use Bootstrap or Foundation, and CSS classes are not documented, so it is difficult to customize the things for websites that exceed the cookie design they provide.

You will need to use a text editor to customize the referring content. Although this is relatively easy to implement, non-technical users with no knowledge of HTML can be threatened.
Conclusion
Overall, Designmodo is one of the best places for designers and web developers.
Don't forget to update the huge collection of products and designs from Designmodo Shop or Designmodo Market.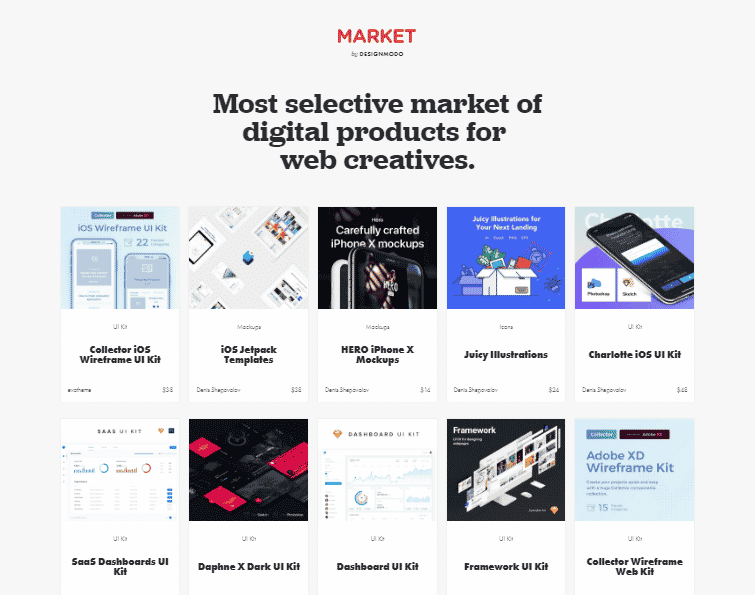 Designmodo Startup Framework 2: $ 249
Designmodo Slides: $ 249
Designmodo Quard: $ 99
and more…
Don't forget to use DesignModo discount coupons code to save up to 50% off.
Note: Designmodo also provides articles, guides, and news on trends and techniques, in addition to services such as Designmodo Shop, Designmodo Market, and Designmodo Jobs. All of them are really helpful to you. Don't forget them!